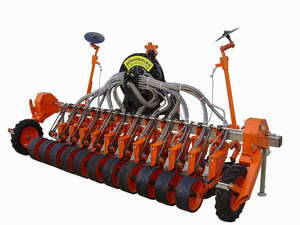 PM – 785 precision vacuum seeder controls precisely the distribution and populatıon of small seeds. It is sophisticated pneumatic metering unit singulates even the most difficult natural seed, to produce a greater proportion of top quality,marketable crop. And it plants in a choice of 1-2-3 lines,according to the plant population and pattern required.
Seeding Unit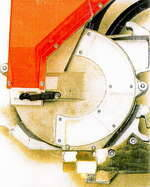 PM-785 Seeding unit includes a vacuum chamber divided into three separate galleries. When in operation with a seed disc fitted over the central drive turntable, the vacuum created in the chamber by the tractor PTO – driven fan, sucks seed from the base of the seed hopper onto a series of holes in the disc. To ensure each hole retains only a single seed, a singulator device removes any excess seed from the holes. This is very finely controlled by a large calibration wheel which is simply set by hand to the required position for each seed type.
Depending on the type of disc fitted, seeds are picked up in one, two or three lines. A vacuum cut of releases seed close to the ground for maximum spacing accuracy. For two or three line drilling, a special splitter is fitted to direct seed into separate lines. After the seeds are released the holes are cleaned by jets of air.
The unit is completely emptied of seed by removing a plug at the base of the hopper.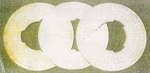 Ekim Diskleri
PM-785 Seed Discs are thin and flexible to ensure a perfect airtight seal when in operation in the metering unit. Holes in each disc are made using a special chemical process which gives them a perfect smoothness. This protects fragile natural seed from damage and together with the thinness of the disc reduces to a minimum the chance of the holes becoming blocked by debris in the seed.
One disc is usually all that is necessary to plant all the different grades of any particular seed type, saving time and expense. Here are the some of the seeds can be plant shown on the table.
| | | |
| --- | --- | --- |
| Asparagus | Kale | Sugar Beet |
| Cucumber | Savoy | Celery |
| Pepper | Calabrese | Mustard |
| Aubergine | Leek | Swede |
| Dill | Spinach | Chicory |
| Radish | Cantaloupe | Onion |
| Broccoli | Lettuce | Tomato |
| Endive | Spring Greens | Collard |
| Rape | Carrot | Parsley |
| Brussels Sprouts | Lucerne | Turnip |
| Fodder Beet | Squash | Courgette |
| Reed Beet | Cauliflower | Parsnip |
| Cabbage | Melon | Watermelon |
Coulters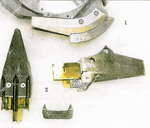 In combination with the appropriate seed disc, a choice of coulters enables growers to plant in specific patterns and densities to manipulate the size and shape of a crop.
1- Single Line : Sharp profile creates a narrow V – shaped seed retaining furrow; replaceable coulter tips are cast iron or long lasting ceramic.
2- Multi – Line: Either 65mm or 100mm wide, for carrots,onions and other high density crops; a a choice of replaceable ribbed bases enables two line or three line planting.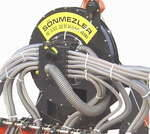 Air System
Vacuum and pressure air is provided by a high volume, low pressure PTO- driven fan. This is unusually quiet in operation, and normally driven at relatively low PTO speeds so reducing tractor noise. Valves on the fan adjust vacuum and pressure outputs. Gauges are mounted in the tractor cab for easy reference and greater protection.
Chain Drive Transmission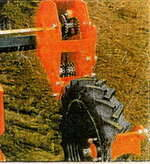 Units are driven by a large diameter, adjustable height landwheel, through a 12 spacing close ratio gear box. Three easy to change, sliding sprocket sets, give a total of 30 different plant spacings with every seed disc. Wheels can be lowered to a maximum of 12 /30 cm below the working height of the row units, to drive between raised beds or ridges.
---
Technical Specification
Unit
Value
Hopper Capacity
L
1 or 2
Row width (min.)
cm
1 L hopper:20
2 L hopper: 25
Seeding Depth (max.)
cm
5
Seeding Unit Weight
kg
46
Seeding Unit Length
cm
Short chasis:145
Wide chasis: 170