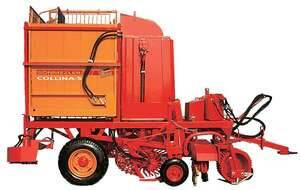 This is a one-row beet reaping machine which does processes of bulb cutting, pulling-up, cleaning, storing and loading of sugar beet all together.
Processes of Bulb cutting,pulling-up,cleaning,storing can be easily controlled by a command control unit by driver.
Collina-E can easily do the pulling process at the tough,heavy and muddy fields where it is possible for a tractor to pull the machine. Brushes to clean the tires are double lined.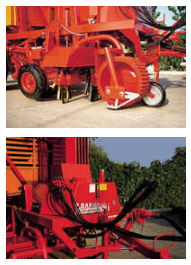 All the mobile parts of the model Collina-E is our new beet harvesting machine are equipped by Danfoss hydroulic engines. And hydroulic pump that gives the movement to these engines is easily connected to the tractors tail pivot. (P.T.O)
By the help of electronic sugar beet tracking unit, follows the sugar beet row by itself. The driver control the machine by the help of electro hydroulic command control unit to rip the sugar beet at the best position.
At any time of obstruction or pressure all of the mobile parts can be disappeared immediately by a command. Commanded by the driver. Hydroulic control unit is located on the machine. The process of the leaf and the head cutting, pulling out and emptying is done by the help of hydroulic arms which can be controlled by the operator.
Leaf and head cutting blade are made of special alloyed steel.
The machine has turnover emptying system.
By this way at the time of beet pulling out, it separates the product from the soil and stones by the conveyor system of the machine and provides clean storage.